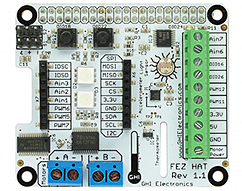 &nbsp
On-Board Analog Input and PWM chips.
Two DC Motor Drivers, suitable for building small robots.
Terminal Blocks for wiring in DC motors without the need for soldering.
Two Servo Motor Connections.
Two Multi Color LEDs, connected to PWM for thousands of colors.
Single Red LED.
Temperature Sensor.
Accelerometer.
Light Sensor.
Two user buttons.
Terminal block with 2x Analog, 2x Digital I/O, 2x PWM and power.
Female headers with SPI, I2C, 3x Analog, 3x PWM.
Dedicated power input for driving the servo motors and DC motors.
No Soldering required, completely assembled and tested.